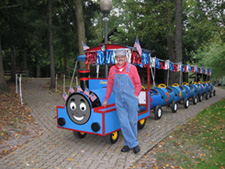 Children of all ages will love this trackless train, and will feel the excitement when they climb on board.  The engineer will say "All Aboard" and create magical memories as the children enjoy their ride on Timothy!  We are proud to serve all of Western Pennsylvania, Pittsburgh and surrounding areas. 
Timothy is registered and licensed with the Pennsylvania State Department of Agriculture, Bureau of Amusement Rides and Attractions.  It meets all of the A.S.T.M. Safety Standards.  Timothy is fully insured and comes with a state certified ride inspector.  We want to keep all riders safe while they are enjoying their ride with Timothy!
There are unlimited occasions to enjoy the trackless train ride: 

Personal Use: Birthday Parties, Family Reunions, Block Parties, Weddings, Graduation Parties, Backyard Gatherings and many more.
Business Use:  Day Cares, Camps, Company Picnics/Events, Borough Carnivals and Festivals, Schools, Malls, Grand Openings, Churches (Vacation Bible Schools, Festivals), Fundraisers, Oktoberfest, Ski Resorts, Zoos and much, much more.